06/04/2013
Who is Chuck Rivers? Imagine if Johnny Carson and Mike Douglas had a bourbon-sipping, chain-smokin, man's man love child.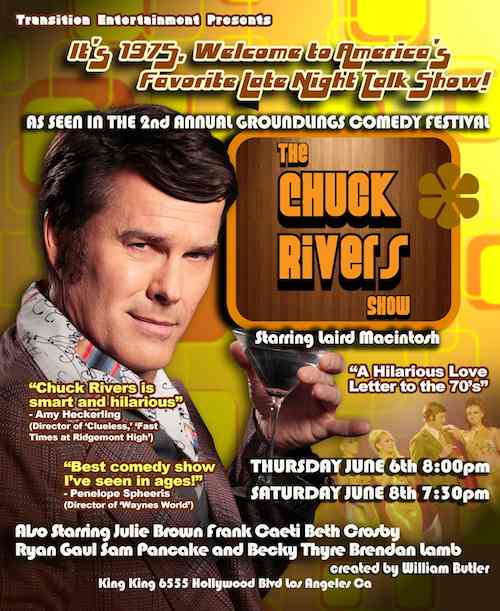 Nostalgic for the days when talk show hosts really did rule the world (those guys would have eaten Jay Leno and Jimmy Fallon for breakfast, lunch and dinner), "The Chuck Rivers Show" is the brainchild of filmmaker William "Billy" Butler, embodied by the ridiculously funny actor and Groundlings alum Laird Macintosh.
Featuring live dancers and a full band, "The Chuck Rivers Show" is a new live comedy theater show, a hilarious love letter to the '70's, a time when Calgon was considered an "ancient Chinese secret." Chuck Rivers  is a popular talk show host in 1975, at the peak of his popularity, and you get a ticket to his live show as he entertains guests both famous (Ann Margret) and unusual (back to that ole Calgon). Some of the funniest comedians in the business, like Wendi McLendon-Covey ("Bridesmaids") and Mindy Sterling ("Austin Powers"), portray Chuck's guests. Rotating stars make every show fresh, almost like you just bathed with Calgon.
"The Chuck Rivers Show" debuted to a two-night, sold-out performance in King King in April, was invited to perform at the 2nd Annual Groundlings Comedy Festival in May, and will now be performing five shows through June at King King. Ticket information for the shows, which kick off Thursday, June 6 at 8:00pm, is here. You can also find Chuck Rivers on Facebook.
Be sure to check out one (or all) of the five shows at King King. Now take me away, Chuck Rivers!
If you are a member of the press and would like a press pass for any of the shows, please email katy(at)bethechangepr.com