11/25/2014
It's that time of the year again. You know, that time of the year when you get all those advertisements about Black Friday, when you scour online forums to find the perfect deal, when you can enjoy the winter season with a cozy cup of hot cocoa, caroling, decorations, and a two block open pedestrian-friendly plaza in the heart of San Francisco, Union Square - wait, that's new!
San Francisco has always known how to be festive. From the outdoor ice skating rink, to the humongous Christmas tree in front of Macy's, Union Square has been an international holiday destination that brings thousands into the city each year. This year, Union Square decided to change its traditional pace.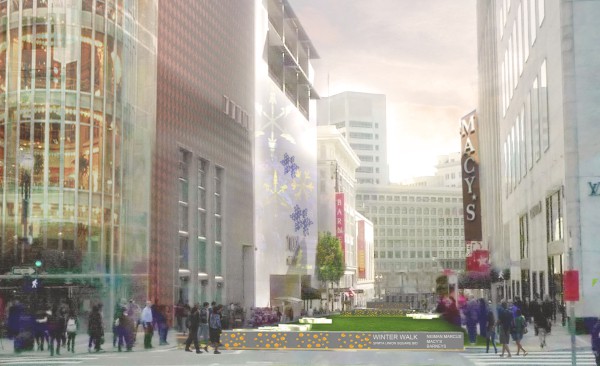 From November 28th to December 31st, the central subway construction will stop and astroturf will cover the streets for Winter Walk SF where two blocks of Stockton Street will be open for pedestrians only. Winter Walk will have caroling, demos, live music, and other surprises as well as be illuminated by an impressive light art show projected on the Macy's Men's Building featuring Jack Frost's adventures as he spreads festive icicles throughout San Francisco. As an added bonus, Off the Grid food trucks will be there every other day of the week (M, W, F, Sunday) to help show off SF's great food truck culture.
For more information on Winter Walk SF head over to WinterWalkSF.com and we hope to see you there!
By Brian Liberman